PPC Advertising – The Faster Way To Grow Your Business
Why wait for an SEO campaign to gain traction? While SEO is a proven way to increase organic traffic consistently, some campaigns - such as an upcoming event or a time limited offer - need to start producing results immediately. For these campaigns, there is an alternative – PPC (pay-per-click) advertising.
What Is PPC?
PPC is a way to buy high positions in Google's and other search engine's results pages.
Using a platform such as Google Ads, you can bid on competitive keywords to create ads that accurately target your customer base i.e. those most likely to buy your services or pay for your product. Once your ad is launched, you pay the bid amount for each click the ad receives.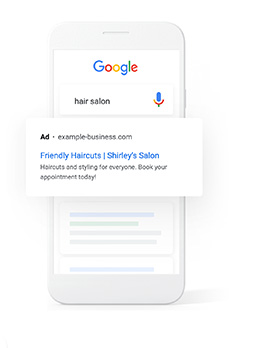 Why Hire A PPC Agency To Manage Your PPC Campaign?
Building a cost-effective and high-performing PPC campaign can be extremely complex and time consuming.
By using a reputable PPC agency in Hampshire such as iConcept, all the hard work is taken care of. A good agency will carry out effective keyword research, create powerful ads and monitor and adjust your campaigns to keep up with marketing trends. This allows you more time to run other important aspects of your business.
Why Choose iConcept?
With nearly 20 years' of digital marketing experience, iConcept are leaders in PPC advertising in Hampshire. Our results-driven campaigns are designed to:
get more of the right traffic needed to drive your business forward
boost your online visibility
substantially raise your rankings in SERPs
keep you ahead of your competition
increase your ad revenue
give you the best possible ROI (return on investment).
Below are just a few more reasons you should hire iConcept, the full-service digital marketing and design agency, to build and manage your PPC campaign.
We understand people. Since 2003, iConcept has created numerous successful online and offline marketing campaigns. With the data collected from those campaigns, we've gained deep insight into consumer trends and behaviour, a skillset vital to building a profitable PPC campaign.
We design and build websites. For a PPC campaign to succeed, landing pages need to give visitors exactly what they were looking for. iConcept specialises in designing and building bespoke websites of all kinds, and because of this experience, our friendly and knowledgeable team of website creators have the:

technical knowledge and skill to keep optimisation costs to a minimum and to act quickly when trends change
tools and creativity to design striking and effective landing pages that connect with people and their emotions, while generating valuable leads and sales
skill and the software to design landing pages that perform equally well across all devices.

We're experts in keyword research. Having been developing and implementing PPC campaigns since the early 2000s, we've established accurate methods to target the most relevant keywords for an array of individual businesses. Using keyword discovery software, we find not only the most relevant keywords, but also the negative keywords we want to eliminate from your ads to help maximise your ROI.
We take tracking seriously: Once your PPC campaign is up and running, and to ensure you're getting a positive return on your investment, the campaign will require constant monitoring and modifying.

Our PPC specialists in Hampshire will use advanced tracking and reporting software to keep an eye on a variety of metrics relating to your campaign, including:

Conversion rates
Bounce rate
Ad Impressions
Quality score
Cost-per-click
CTR (click-through rate)
Keyword performance
ROAS (return on advertising spend)


With this data and more, we'll generate an accurate report that lets you know how we've been optimising your campaign and how we can keep optimising to help you:

keep up with changes in marketing trends
know what your competitors are doing and how to stay ahead
increase your ROI and total ad revenue.

As an experienced PPC agency we understand no-one knows your business better than you. So we want to work with you, to learn exactly what your company does and what you'd like it to achieve. Once we know the finer details, we can develop a customized PPC campaign designed to meet all your advertising goals.
If you're looking to boost your business's online visibility with a bespoke PPC campaign or would like an audit on your current PPC strategy, get in touch with iConcept and see how we can help.